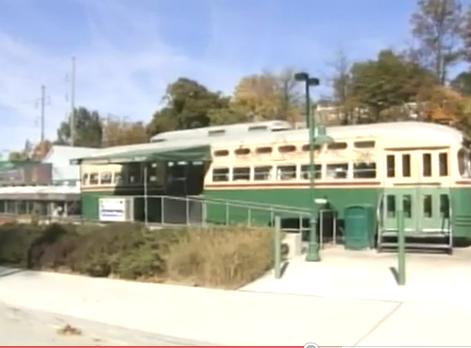 On this web site, you have already been introduced to the Trolley Car diner. This diner sits east of Cresheim Creek which places it on the far edge of the Germantown section of Philadelphia and is relatively easy to spot as its logo, an actual PCC trolley, is placed adjacent to the diner when travelling northwest on Germantown ave . The diner itself is similar to other diners in the area but the actual trolley car, which serves ice Cream and desserts in the summer, is a somewhat unique addition.
The name itself is not that much of a surprise as there have been a few diners and eating spots similarly named within the greater Philadelphia area including the trolley stop diner in Media and the trolley car café in South Philadelphia. But, there is an allure to any native Philadelphian of a certain age as far as trolley cars are concerned. To some degree they are as Philadelphian as the mummers parade.
We doubt if the participants of the luncheon were thinking in this direction as they ate and conversed on Jan 23rd, 2011 as documented on this web site. But for one participant the interweaving of the name Germantown and the juxtaposition of the PCC trolley a few yards away brought back rich memories. In the scheme of things, old Philadelphia sectional names like Germantown and trolley cars really go together.
Most people are unaware that the creation of the trolley is incorporated in the creation of what would become known as the subway or elevated lines which start in New York City and spread to Philadelphia and beyond. The third rail of subways is nothing more than the trolley line above a trolley (and, by the way, the name trolley derives from the mechanism that is on the end of the pole that touches the line above and held there by magnetism.) One was designed for non-accessible rights of way such as an elevated structure or a subway tunnel and the other was designed for city streets where many people would have accessibility. The original tests of these types of electrical modes of transportation date back to the 1880's as Edison's work with electricity propels other inventors to use this "new" form of energy.
In Philadelphia, you have a set of unique circumstances that involve the then new trolley technology intermeshing with existing Railroad technology. Philadelphia was originally a railroad center with several railroads serving the city including the Pennsylvania Railroad and Reading railroad, both centered here and the baltimore and Ohio which had a lot of track right of way and a considerable passenger service at one time. On the city street side, the intermesh of passenger wagons wiith electrical propulsion would create a powerhouse city transit company known first as Union traction, then PRT for Philadelphia rapid transit. In its activities during its hey day, PRT would have no equal in the rest of the world. As indicated, it would share transit power within the Philadelphia area with the already existing railroad companies, especially the greatest railroad company, the Pennsylvania Railroad, in the United States. Books have been written about the interaction, not to mention the conflict, between the two and both would have great influence in what the city would become. We might also add that for many years both transit companies would wield great power in the Pennsylvania Legislature.
As an aside, this interaction between railroads and city transit also explains the odd differences between the Market Frankford subway elevated and the Broad Street Subway. There always is a clamor by those not informed to combine the two in a similar manner to the way lines are merged in New York. The Market line (originally running as an Elevated along Market Street from the newly created 69th street area to 23rd street, as a Subway to 2nd street, and then as an elevated south along Delaware Avenue) was specifically tied to trolleys as it was built in 1908. Its gauge was set to the Philadelphia trolley gauge of 5 feet, 2 and a half inches. At 23rd street, it originally was supposed to run along an adjoining subterranean trolley right of way through City Hall although some historical accounts indicate that both the trains and the trolleys shared the same track at the beginning of operations in 1907. If so, this was quickly rectified with the addition of another track.
The Broad street line was railroad oriented, meaning its gauge is the American railroad standard of 4 feet, 8 inches, when originally built in 1928 running from Olney ave south to Walnut Locust along Broad Street. An extra express bay (tunnel) was purposely added to the southern portion of this line up to Eire Ave to allow for the expansion of the Reading Railroad, a local competitor to the Pennsylvania Railroad, in running its trains underground from Center City to what would become known as Wayne Junction.
While the Market Line did become integrated with the surface trolley fleet in what is now known as the Subway Surface lines of Philadelphia, the Reading never did run under Broad street. By 1960, these inner corridors on the Broad Street line were converted to what is now the express trains along that line.
You can see how easily we can move into the history (especially transit history) of Philadelphia. There are many entry points where railroad, subway, elevated and trolley lore allow us to explore this rich lode of what might be trivia to some but downright fascinating to others (especially of a certain age). But, so far we have ignored the designation Germantown, so let's move backward in time to the birth of what would become the city of Philadelphia and tie this into the above discussion.
As you are aware, William Penn founds the state of Pennsylvania (Penn's woods) and it is one of four commonwealths later to be incorporated as States into this country. There is a religious side to this that most understand and have been taught, but there also is the visionary Penn interested in city architecture. Before he sets foot in North America, he has made architectural plans to create a shining grid shaped city to explore his theories on improving quality of life for its future inhabitants.
At first only 3 counties have any impact when settlement starts in 1682 (Penn first stops in what is now Delaware and then continues up to the Philadelphia area and supposedly lands at what we now call Penn's Landing or so it has been said). These counties are Chester County, Philadelphia County and Buckinghamshire (Bucks) county.
The original Philadelphia, supposedly named after a city in ancient Greece (now Turkey) and meaning city of brotherly love in Greek, was an important center in the Byzantine empire and well known in ancient times as a religious center. To Penn, it was probably known as the last bastion of the Byzantine empire which was the final embodiment of the remains of the Roman Empire.
Chester County was a mighty behemoth encompassing all of what is now known as Delaware county and much of what is now known as Montgomery county, especially the western part. Sometime after this country's independence, Delaware county and Montgomery county were created from Parts of Chester County (Montgomery also contains parts of Philadelphia and Bucks counties). Philadelphia county was broken down into multiple townships with the seat of the county being the township of Philadelphia which we now call center city. Similarly, Chester City becomes the seat of power of Chester and we assume some type of derivative of Bucks is used to designate the capital of that county. Not that it matters much to this discussion, but Chester county is and was so large that on alternate years the seat of power was shifted westward from Chester City to a newly constructed borough in the center (then western) portion of the county designated as West Chester. When Delaware county was created, Chester city became its capital and West Chester became the permanent seat of power in Chester county creating the ongoing confusion of which city serves which county. To further complicate the matter, in the 1880's Delaware does a geographical survey to pinpoint its exact center and on that center the borough of Media is created to serve as the county seat.
We would be remiss in not mentioning that Bucks county also was chopped up and its northern area became a set of counties leading to the New York border. Its capital, Doylestown, had a similar situation to Media in being created to more centralize the location of the court house which in colonial times and now is the seat of government.
But we digress as usual. Returning to Philadelphia county and especially Philadelphia township, you should be made aware that this township, the county seat of Philadelpia County, is bordered from the Delaware river to the Schuylkill river and from what becomes known as Spring Garden Street to Keswick Street (now designated as South Street). The other townships in Philadelphia county, supposedly totalling 29 including Philadelphia township, receive either names derived from sections of London such as Port Richmond and Kensington, or from the origin of the populace within them such as Moyamensing and Passyunk, named after two tribes of local Indians.
That brings us to Germantown. Penn's agents, and he was both a rich man and a visionary, had been busy selling the idea of rich farmland and a laissez Faire approach to government to many groups in Europe. This idea of a pastoral location to farm was especially beckoning to groups of would be settlers in what is now Germany (although Germany at the time was a set of small city states and duchies) and they begin to land as settlers in Penn's jurisdiction.
You are probably aware that a language barrier gave these people the designation Pennsylvania Dutch (a corruption of Deutsch which was how they identified themselves) and these people settled near and far as they emanated out of Philadelphia township. This extended west through Chester county into Lancaster county (as the county adjacent west of Chester County became named), northeast through Bucks county into what would become the Gwynedds and the Souderton area and northwest through Philadelphia county into the Wissahickon valley. As so many Germans had settled into this area, this region became known as Germantown, given the propensity to name locations after the origins of the inhabiting populace and later we think this would become a borough in Philadelphia county. Later on, in 1876, the great consolidation would unite all the townships in Philadelphia to create the city of Philadelphia in the area of the county of Philadelphia so that both became one and the same.
Early residents of this region used a transportation network, if you want to call it as such, that consisted of enlarged paths that the native Indians had established in addition to the many rivers and creeks that were part of the Delaware and Schuylkill basin. However, before long, new roads for carts and horse traffic were to some degree being built many of which became toll roads.
The famous Lancaster turnpike was such a new toll road. The turnpike addendum pertained to what we now call turnstiles for allowance of entrance and exit of the horse drawn carts that existed at the time and the moniker "turnpike' was appropriated in 1940 as the state of Pennsylvania began to build a statewide toll road.
Lancaster Turnpike, which may have originated on the west bank of the Schuylkill near what is 30th street station today, ran through much of what is today's Lancaster avenue in Philadelphia and made its way toward Lancaster. Being the first US toll road would not be its only claim to fame as portions of it were selected in 1913 to be a part of the first transcontinental route in the United States, Lincoln highway, now known as Route 30.
We mention Lancaster turnpike because this road concept was copied throughout the area and one such road, the Germantown and Perkiomen turnpike, would be of interest to those studying the history of Germantown, Germantown avenue and trolleys. This author has no maps to indicate the exact location of this toll road, but it probably served a similar purpose for Montgomery county's Perkiomen valley as Lancaster tollpike served for Philadelphia's western suburbs.
Eventually these tollpikes were brought under city ownership in the great consolidation of 1854 and became part of the city's burgeoning road system. Maps from the 1830's (and certainly maps of the 1854 consolidation) show a road in Philadelphia similar in path to what is now the modern route of Germantown ave.
As the road structure builds around the through the city to encompass the aforementioned Lancaster and Germantown pikes and other roads with names such as The Ridge (Ridge pk), Bensalem Rd, Broad st, Old York Road and Derby Road (now darby Road), what was transversing along these early roghts of way and what other transportation modes were these roads competing with.
You are certainly aware that it is not unusual to watch a western where talk is made of Conestoga wagons. Conestoga is a valley in Lancaster county and these original wagons were part of the heritage of the original German settlers as mentioned above. This type of wagon became the archetypal four wheel horse drawn vehicle of the time and manufacturing of versions, knockoffs and models of it was done throughout Lancaster and Chester counties. In the Valley Forge area, in the Tredyffrin and Easttown township sections of Chester County, homage to this wagon continues as many streets and roads have been named for this type of vehicle.
This burgeoning wagon industry found many good clients in their eastern neighbor, Philadelphia county, and one assumes that throughout the period of 1800 to at least 1830 such wagons would have been a common site throughout this county and in the Germantown section of it. It became clear that a heavier and more utile vehicle was needed for the regular transport of people. In the 1820's what we would call a stage coach today, and what was called an Omnibus at that time, makes its appearance on the streets of the townships and boroughs of Philadelphia county. This allows for paying customers to use this vehicle and it is probable that scheduled service is established by a set of independent companies.
Like all new industries, these are initially unregulated and anyone with the time and money to establish these types of services is given free reign. But, like any industry, abuses become and issue and public safety must be assured. Having teams of horses drawing heavy vehicles at high speeds lends itself to mishap and mishaps occur. Papers at the time are full of accounts of horses being separated from these types of vehicles and going on rampage and creating destruction, accident and in many cases, deaths.
An engineer familiar with the technology of the time would probably tell you that a free wheeling vehicle with an attachment of an axis of wheels (the term truck is used to describe this aand became a term used to describe railroad and trolley vehicles and was corrupted to what we know as a truck) with a further attachment to a team of moving horses is somewhat unstable and prone to breakdown and malfunction. It was apparent that some other addition of technology would be needed to make this more viable as far as public safety.
This technology breakthrough comes in two parts. In England, Thomas Savery, Thomas Newcomen, and James Watt invent, reinvent and perfect a energy source which 1800 years earlier had been used to move massive doors in large building in Greece and had been forgotten. We are, of course, talking about the steam engine. It's first use in transportation would be in steam ships eventually perfected by Robert Fulton. But land transportation was not that far away.
In the late 1820's, early 30's attempts were made to harness steam power for use on land. Early experiments indicated that this was possible but navigating once a vehicle picked up steam propulsion proved to be somewhat difficult given the technology at the time. An answer was to put the vehicle on rails and obviously the vehicle would be guided by these rails to its destination. So, we see by the 1830s a new combination of technologies moving forward – steam, rail and construction – to create the Railroad industry.
Railroads were not limited to the United States but the great expanse of this country, its entrepreneurial fervor and its need for expansion made this the prime area for the railroad industry. Philadelphia was in the lead on this. The Philadelphia and Columbia railroad, the forerunner of the Pennsylvania Railroad, begins operation in 1834 running from Broad and Vine through Columbia, a small town now borough in Western Lancaster county on the banks of the Susquehanna river. In 1857 or thereabouts it becomes part of the "main line" of the Pennsylvania area. The Broad and Vine site which is on the outskirts of the township of Philadelphia in 1834 when the company begins, is later shifted south to abut City Hall on market and become the famed Pennsylvania Broad Street station situated at Broad and market and the eastern bookend of what became known as the Chinese Wall that ran along Market street from the Schuylkill to 15thst before being demolished in 1954 and replaced by Penn Center and its subterranean station.
The use of rails by the railroad companies provides a source of inspiration to the omnibus operators. Why not rail the city streets in a similar manner and use horse drawn vehicles on these rails to provide commuter service. Slowly these free whelled omnibuses are converted to wheels tracked vehicles drawn by horses. The industry now becomes known as traction companies.
By the middle 1800s, many city streets have been so tracked and probably this would include Germantown Pk (or as it became known in the city as Germantown Avenue) and before and after consolidation these tracked vehicles would allow commuter service between that section of the city and what would become known as Center city.
Let's return to a discussion of the railroads for an example of what was going on later with these traction companies. Railroads from the period of the 1850's through the 1870's or so acted in a similar manner as Internet companies did in the late 1990; early 2000's. Boom and bust, the nature of all economic expansion, does not do this phenomena justice. Mania and euphoria might be a better expression. The rules at the time allowed railroads to exert the rights of eminent domain quite readily throughout much of the country and many railroads were started with very little economic reality of where they would originate, where they would end and what they would carry. The main concern of these lines, all independently owned, was to raise money and build (and without a doubt having the individuals concerned able to skim their more than fair share of these raised monies).
Much of the financing of the railroad industry comes from England and we really have come a full circle as per this web site as it has featured tributes to the English author, Ian Fleming, who just happened to be the grandson of Robert Fleming, who become the richest man in England for a time providing and raising this type of financing for these US railroads.
This type of economic mania rivaled the famous tulip mania that peaked in 1637 and was at least as powerful as the internet mania many of us witnessed firsthand a few years ago. Government did not intervene in this and the resultant busts affected stock markets and the US economy alike. Eventually there was a consolidation in the number of these railroads and ownership was centralized. Government regulators such as the ICC and state regulars, to be sure, began to effect some order into what into what in many previous occasions was chaos.
In like order before regulation, the city traction companies in many ways competed with each other in ways that adversely affected the city. Gauges were not standardized and in many cases, probably including Germantown Ave, tracks of competing traction companies were laid side by side or within each other along the route. This begins to change with consolidation in 1892 as a dominant traction company, The Union Traction Company, comes to the fore. Whether aided by the panic of 1893, another economic bust in this country, or just a natural phenomena, by 1898 the consolidation of these traction companies had almost become complete with perhaps 3 traction companies surviving. In 1898, the three became one as the Union traction company was formed to encompass all three,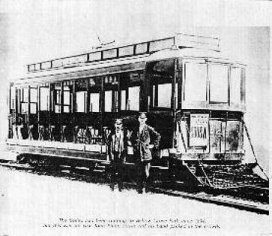 The Union traction company is a very successful free market enterprise and makes its owners very wealthy. The major investors in this are members of the Widener family and this fortune in later years is used for a variety of philanthropic and art functions. Widener University is one example and the ntional Gallery of Art was in a way started by the Widener family contribution of their art collection. One of the heirs F Eugene Dixon was for a short time the owner of the Philadelphia 76ers. The Widener family, with its wealth, was very influential in societal circles such that they were generally part of any new or influential societal observance. The initial trip of the Titanic would be one such event to their way of thinking and two sons of the family were part of and died in that fateful trip.
The Wideners, to their credit, invested and subsidized technology so it was a natural that the tests discussed at the beginning of this script, the use of a third rail in transportation would be of a fascination to them and the result was that coincident with consolidation a change from traction wagons and horses to electric trolleys was effected. To the right is a picture of one such early trolley and it really wouldn't have looked much different from a traction wagon pulled by horses. The reason for that: it was not rare when the horses were permanently unhitched from a wagon, that an electric motor would be installed under its carriage and what was being pulled a few weeks before by a team of horses was now under its own power. These 'new' vehicles rode better and somewhat faster than they did in their previous incarnation and a new name was created for this company to commemorate the technology change. Union Traction became The Philadelphia Rapid Transit company (known throughout the area by the initials PRT).
And, it was not just the rolling equipment that was changing. It was found that a surface covering called Belgium block was best at that time for streets that had trolley tracks and the city began the process of changing many of the streets, especially those with tracks, to this type of surface. While good for trolleys, it is uncomfortable for cars given the lack of a flat surface and the last half century has seen these same streets paved over. Germantown avenue is one of the few remaining city streets to continue to be surfaced in Belgium block.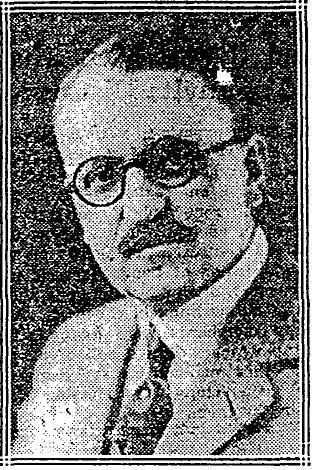 One more component of change was needed, and this was of management and management style, for PRT to became a world powerhouse in tranportation services. This new component was added a few years after the change of the name. PRT was to hire a very forward thinking 'general manager'. They recruited an up and coming star in the transportation world who was at that time managing a transportation net in metropolitan Chicago. Thomas Mitten, whose picture is to the right, had started in the railroad business in the Milwalkee area as a ticket agent. After a series of job promotions he was, at the point where he was recruited by the PRT and its owners, at the helm of a transit system in Chicago. Mitten was a bit of an original thinker in terms of his own utility to his exployer and how to treat his own employees. In the end, PRT signed a contract not with Mitten personally, but with Mitten as the head of an advisory company so that a new entity, Mitten Management, was the overseer of the PRT. Mitten would hold the helm of PRT for abut 20 years until his death in 1929.
To say that he was creative is an understatement. By the time of his death, he had defined the way a transit system should operate although to be fair, it would only a few years past his death for everything to unravel.
One of the first things he did was to establish numeric designations for specific routes. On many city streets several lines would operate and at that point is was difficult for a commuter to be sure which trolley was which. We know that at least two lines used Germantown avenue (one for a small stretch) so even on this route a commuter could be mistaken and hop the wrong trolley. Lines were now given numbers and the Germantown line we are discussing, which had been established as running from Chestnut hill through Germantown down to Broad and Eire where Germantown crossed Broad Street, into what we would call North Philadelphia today and then heading down 11th street into Center City and ending in South Phila and up 10thst street as a return (this was modified in the 50's when 12th street was used for the return) became the famous route 23 as it is today although it runs currently as a bus route.
In going from Chestnut hill, close to the northwest edge of the city into South Philly, the southern edge, the route became beloved of trolley buffs as it was considered the longest trolley route in the United States and probably the Americas. In addition, this was a time of the interurban and trolley routes could be designated as urban or interurban. Rt 23, in addition to Rt 47, 50, 55, 22 and several others, seemed to be a combination of both again adding to the allure of this and the other routes. And, it didn't hurt the allure that the route went through Germantown and Chestnut Hill which were interesting parts of the city with the look and feel of a gentrified suburb.
Closely tied to the Route 23 and running somewhat parallel but below Germantown Ave from Broad and Eire was the trolley route on Wayne Avenue that went through Mt Airy. This was designated as Rt 53, no doubt the 3 in tribute to its longer cousin on Germantown ave. Both these lines and several other trolley routes including the 56 on Eire Ave were housed in a new trolley barn built just above 11th and Eire at 11th and Luzerne. Mitten was especially interested in maintenance of equipment and this barn was state of the art when it was opened in 1913. At that time is was the largest pre cast concrete building in the world and specifically designed to handle up to 350 trolleys.
By its very nature of being at the Northwest edge of the city, trolley route 23 shares some lore with what was the Philasdelphia and Western (now Septa's Rt 100 Norristown High Speed Line) line in Norristown. An interurban company north of the city designated as Lehigh Valley Transit had connecting service to both the P&W and Rt 23 for movement into the Lehigh Valley. It's probable that this connection also included several trolley lines in Roxborough, the part of the city south of Germantown and Chestnut Hill. The connection with route 23 by Lehigh Transit would have been at the Germantown and Bethlehem Pike loop still used as a turnaround by Rt 23 and now by Rt 77 in addition.
This connection point may have been the result of one of the most poorly thought out ideas ever in transportation and surely not of Mitten's making. There was an attempt to link up urban and interurban trolley routes to create a line of service from the New York/Phila area into Chicago to compete with the only game in town as far as long distance service was concerned at that time, the railroads. And, theoretically, you could do this in the early part of the last century. Of course, one would have been out of their mind in attemptin g to transverse Pennsylvania, Ohio and Illinois for to do this it would have required some 20 changes (not to mention fare payments) to accomplish this process.
Mitten's interest also pertained to the acquisition of trolley cars and here he was in luck. The Pennsylvania railroad had established a relationship with the Brill Company, a manufacturer of transportation equipment located in Chester city. No doubt, if you did the research one would assume that Brill started in some fashion with the making of the Conestoga wagons discussed above. Besides the Pennsylvania and other railroads, Brill was making trolley cars for some of interurban trolley companies and the most famous example of this was the Brill cars, designated as the bullet trains, designed for the P and W which can still be admired in photographs as an example of the art forms prevalent in that day. The Brill car design for the P and W would be a perfect match architecturally with the design of the PSFS building which was completed in 1932 in center city. We might call both of these Art deco in architectural style, function and design.
Mitten contracted with Brill to produce trolley cars for the PRT. These cars would be two cabbed allowing for the trolley to move in both directions without the need of a trolley loop. At that time, it was not standard for heating to be available in trolleys although these new cars would be so equipped. When delivered, these cars would be part of all the trolley routes served by the PRT system, whether looped like RT 23 or not.
Mitten attempted to do things in that day that are considered the norm of management today, possibly even beyond what is considered as good management in the present era. The New York Times archives includes an article written by Virginia Pope in 1926 explaining Mitten's theories of sharing ownership with exployees. In this, he certainly was ahead of his time as you can read in the article. He makes reference to the play, "RUR" where the term robot first appears and talks about robots in a very interesting manner especially given that this interview coours in 1926. He also discusses employee shared ownership well before ESOPs became more of a norm.
Mitten management established an engineering department that worked with the city in plans for structural development. This author has seen plans by these engineers that would have created an underpass for City Avenue where it meets Lancaster avenue and these plans were laid out in 1917. Mitten's enginners wanted to go far beyond the two subway lines we find today and they had proposals for a Elevated lines along Henry Ave, Lancaster Ave, down 5th street and a loop around City Hall using Arch and Locust streets. This author beloeves, although the timing may not be exact, that under Mitten's management PRT reached out to PSTS, an interurban trolley company that ran west of the city in Delaware county, to mutually establish 69th street terminal which at that time was farmland. The PSTC lines (later called Red Arrow and now Septa's Victory division) would feed riders into the El system at the transfer point of 69th st station.
Mitten also directed his transportation company to provide Sunday outings to what was then the Willow Grove and Woodland amusement parks. If memory serves, PRT had a business interest in Willow Grove park so this was an instance of multilevel business transactions for the company. As far at Woodland park, the park trolley was given its own right of way through underpasses beneath Belmont avenue and these underpasses were passed to the city and used today for automobile traffic when Woodland park ceased operations in the early 1950's. Mitten also directed purchases of buses and early on was looking at making PRT an interurban and intercity bus company and the limited service that exists to Wilmington and Trenton today are the remains of those attempts. Mitten also had the company get involved with early aspects of aviation and it is said that PRT helped establish what would become Eastern Air Lines.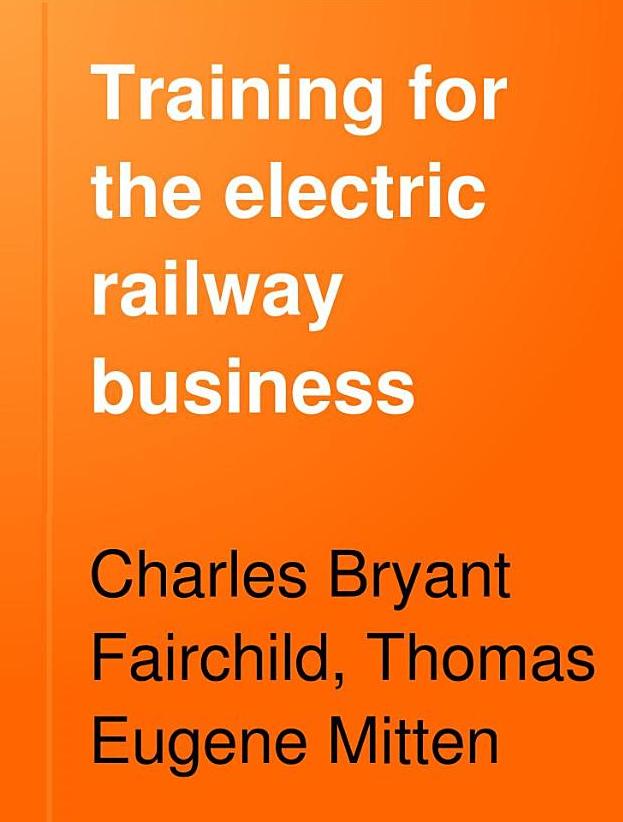 Mitten, and several other executives of PRT, wrote a book explaining the business and training needs for administering a transit system and you can find this book on the internet at the harvard library archive. But it was in employee interaction and ideas about Employee ownership that he is held in most regard. But, he helped to establish one of the first credit unions in the country for PRT employees and PRT benefits even included a travel club to help Employees and their families plan vacations.
Mitten died under somewhat mysterious circumstances several weeks before the market crash of 1929 due to a drowning accident. Some speculate that this was a suicide for a man with such vision who probably was aware of what might happen when/if the economy had a severe downturn. Either way, the PRT, without this leadership and as a result of the economic depression headed south through the 1930's and its first brush with reorganization was in 1933 although change of ownership was avoided. However, the company was reorganized in 1940 under new management and ownership.
The only high point in the 30's for any transportation company that relied on trolleys and interurbans was the fulfilling of an idea brought forth at a new trade group comprised of directors of such transit systems. The trade group was called the President's club and it first met in 1929. Discussions among these leaders brought forth plans for a more efficient trolley and in the late 30's, the St Louis car company built a prototype, designated as the President's Club Car (PCC) that was so well received that most people think of it and its design when they think of trolleys. The trolley mounted in front of the Trolley Car Diner is one such PCC.
The PCC trolleys were well received when they first arrived at any transit system both by the riders and the management. In Philadelphia, the first shipments arrived in the late 30s and we think the first line to operate them in Philadelphia was Philadelphia's most famous and longest trolley route, and you guessed right, Route 23 along Germantown Ave. Below, on the left and right, we have displayed 2 pictures of trolleys on Route 23, one of what we think is a Brill car, the other a PCC trolley. Because of the bus and automobiles in this picture, we believe the Brill car was being operated for some festival in the late 70s, early '80s along Germantown avenue in the Chestnut hill area. Let's look at these cars from a management perspective. For more profitability, one possible requirement is lower operating cost. Another is higher revenue. It might not be readily apparent, but the PCC trolley is longer. To some degree it is also wider and rounder. It can sit and stand many more riders than the other car. How about operation? While not available in the older car pictured below, we might expect another cab at the rear of older trolleys for 2 directional availability. Most older trolley designs required the car to be manned by both a driver and a conductor whose job it was to collect fares. The PCC trolley generally had only one cab (Although the aforementioned Red Arrow lines were rare in acquiring 2 cabbed PCCs) and commuters can be directed to a spot next to the motorman to deposit fares which eliminates the need of the conductor. If you were management, which would you choose?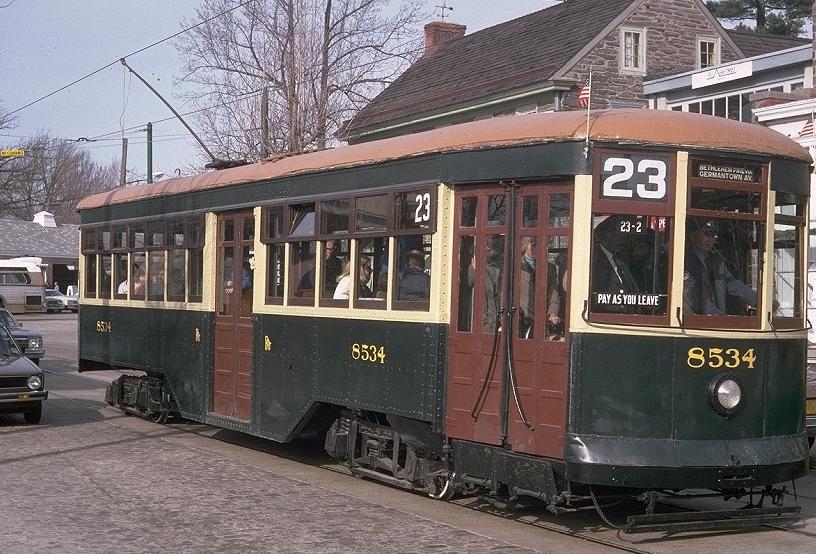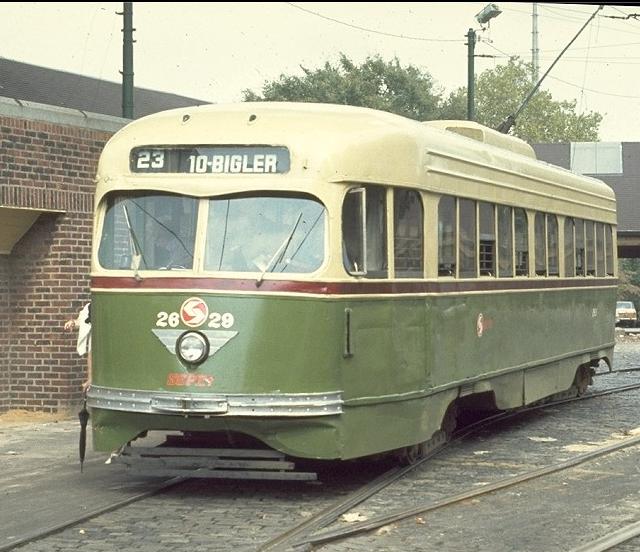 For this reason the PCCs produced by the St Louis car company were in great demand and transit systems had to wait for their orders to be fulfilled. But once here, they went immediately into service normally with a banner of "Hello Philadelphia". There are many pictures of these trolleys lined up along Germantown Avenue and other avenues with their banners reading "Hello Philadelphia."
For many reasons, Philadelphia no longer is a leader in the operation of trolley cars. Today, Six routes operate in the City and three in the suburbs including the P&W interurban (kind of a quasi trolley system given the use of a third rail) now designated as the Norristown High Speed Line. Service changed to buses for the route 23 in 1992. The city and many of the inhabitants would like to see a return of these quaint reminiscences of an older time whose power, electric, may be the power of mobility in the future but at the moment, the present operator of city transit, Septa, is somewhat adamant about sticking to buses. For a while they had a legitimate point as part of the tracks were paved over right in front of the Trolley Car Diner. This part of Germantown avenue is a state road and in recent years the Belgium block covering of Germantown avenue, which gives the strret its unique and antique charm, and the tracks have been restored.
However, you can still see PCC trolleys in operation as these are the trolleys, remodeled to include air conditioning, that are running on Rt 15, Girard Avenue, today. The other lines in and around the city have more modern designs and have been manufactured by groups in Japan and the like. Of course, if you don't get to see these PCC trolleys on Girard avenue, feel free to travel on Germantown ave and as you approach Cresheim Valley pkwy, on your right (left if heading into the city) is an actual mounted PCC trolley car that acts as the logo of the Trolley car diner.